Cinematic Views From The World's Tallest Outdoor Elevator
At 1,070 feet tall, the Bailong Elevator in Zhangjiajie, Hunan Province, China, is the tallest, fastest, and largest loaded lift on Earth, according to Top China Travel. The elevator is located in the Wulingyuan Scenic Area, a World Natural Heritage site, and it allows tourists to take in the breathtaking mountain sights.
About half of the glass elevator is located within the mountain, while the top portion gives visitors incredible views of the surrounding area, which includes tall, column-like sandstone formations, according to CNN. The landscape in the Zhangjiajie National Forest Park was likely used as inspiration for the floating Hallelujah Mountains in the alien world Pandora featured in James Cameron's 2010 film Avatar.
Before the elevator was completed in 2002, visitors had to endure hours of driving on dangerous roads to reach the scenic views. Since the elevator's construction, tourists can get to the top of the mountain in under two minutes.
A German company built the lift, also known as the Hundred Dragons Elevator, by digging tunnels and shafts into one of the sandstone pillars. The total cost was 180 million yuan, or $28 million USD. The structure actually consists of three sightseeing elevators that run parallel to one another. Each double-decker elevator holds 46 passengers and has a speed of 5 meters per second, or 11 mph. The elevators can carry 4,000 one-way passengers per hour. Prior to the COVID-19 pandemic, 18,000 tourists traveled on the elevator daily, according to WTVA News.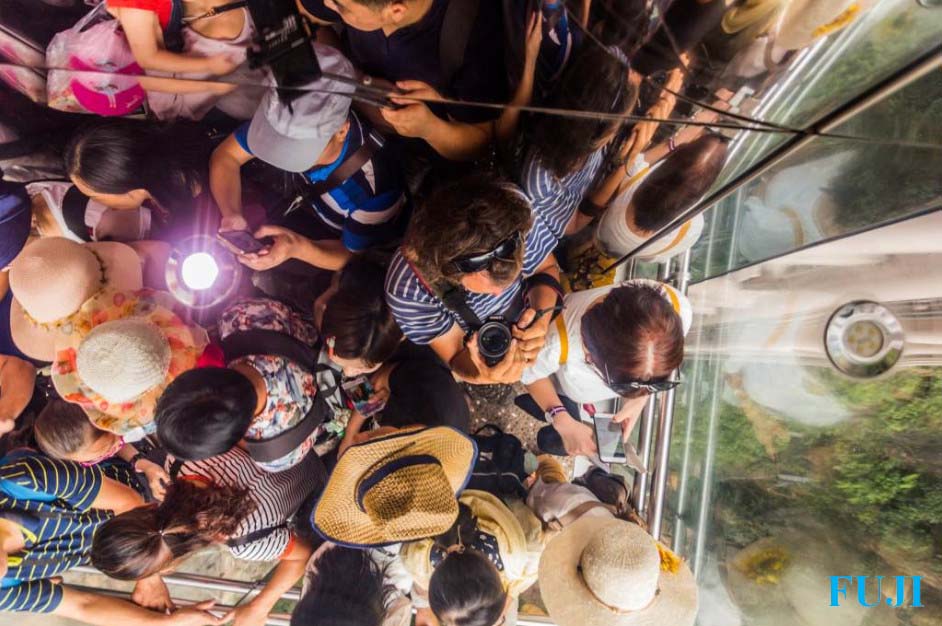 There was some controversy over the elevator's construction because it's situated in a World Heritage Site, according to Industry Tap. The region attracts five million visitors annually and was already coping with a significant number of tourists prior to its construction. Proponents of the elevator claim its presence eliminated the need for so many hotels, guesthouses, and other types of accommodations.
Since visitors no longer need to stay on the mountain to see its views, fewer overnight stays are required, and environmental impact has been reduced. Also, fewer people are hiking up the mountain because the elevator is available. Clearly, the lift's effect on the environment is a matter of perspective.
Following the elevator's opening, it was temporarily closed for safety purposes. However, it is equipped with safety features such as an earthquake detector and a load-weighing control system to protect it from failure. In 2013, French rock climber Jean-Michel Casanova scaled the elevator's exposed structure without safety equipment in 68 minutes, according to China Daily. That's a bit extreme to avoid the cost of using it, which is about $10.50 USD each way.